Knowledge
10 Best Online Course Providers for Your Staff Development in 2022
Thu, 07.04.2022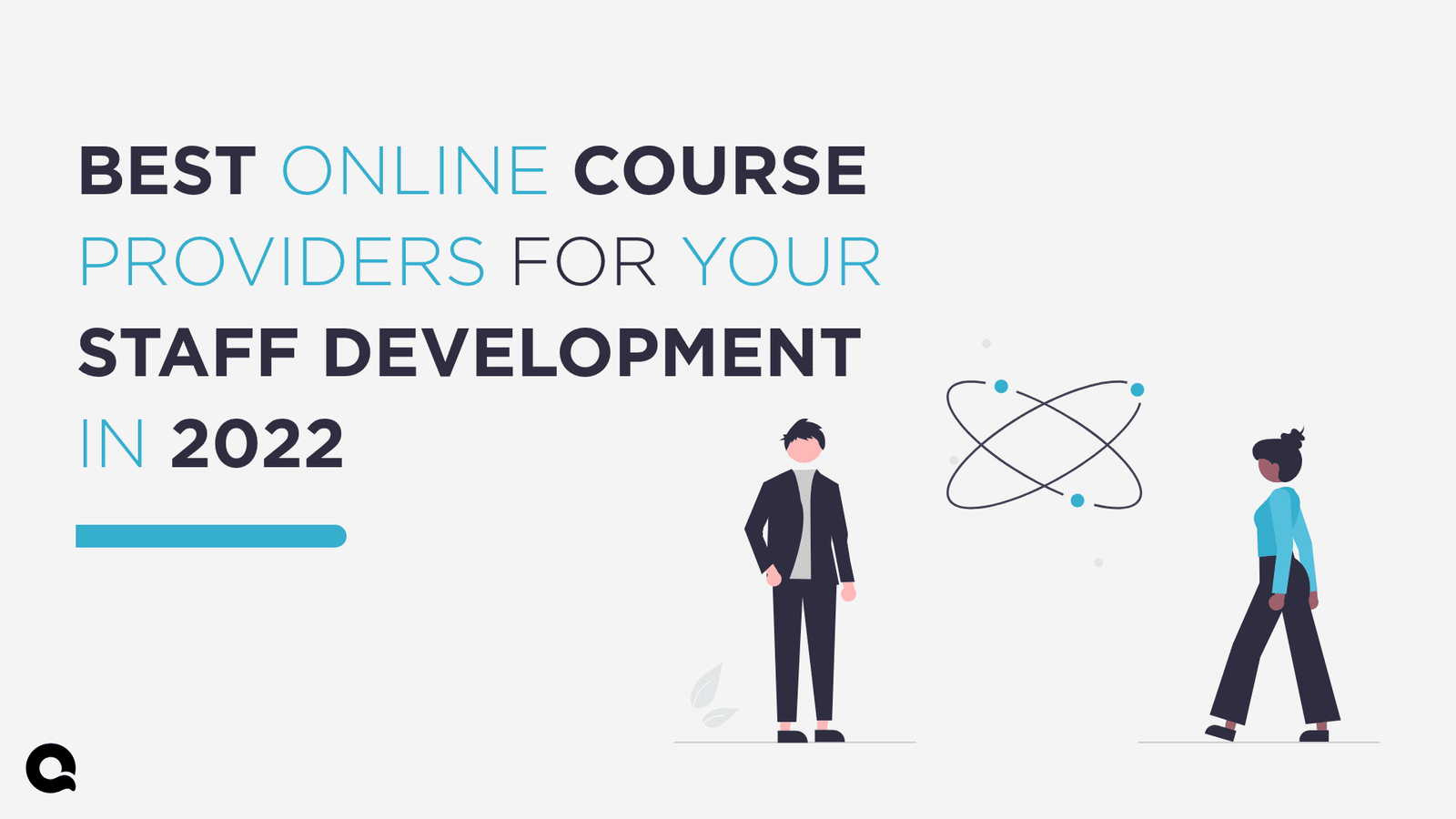 In 2022, professional development is much more than a job advantage, instead it is a requirement. Learning the latest technologies and practices is a must to stay abreast with the latest developments in the workplace. The online courses offer an opportunity to hone the existing skills and benefit both an employee and an organization.
According to a report, more than fifty percent of the workers in organizations need to incorporate the skills to be effective in their respective roles. Therefore, the organizations must adopt several external online course providers while catering to the requirements in the workplace. Thankfully, a large variety of software development services for online courses are available that impact soft skills in various job areas. It is the duty of the organizations to assign the courses while tracking engagement via interactive tests and activities.
Understanding an online course
Several online course platforms are present which package the learning content through distinctive online courses. These assist professionals in improving their skill set while promoting professional growth. At the same time, these are also aimed at offering alternatives to traditional learning while adapting to practical learning sessions outside the traditional classroom setting.
The online course providers are designed to make them easily accessible across organizations while developing great skill sets. From distinguished subject experts to well-known professors, the instructors speak volumes in the courses.
Prominent kinds of courses offered
Caregiving courses
Artificial intelligence
Microsoft excel
Project management
Python and R programming
Data Science and machine learning
User experience design
Climate awareness and advocacy
Personal branding
Top 10 staff training software development services in 2022
Coursera
Coursera will provide you with several options without sacrificing quality if you are looking to develop various skills by seeking software development services for training courses in corporate companies. It goes back to its roots at Stanford, with the early offerings being focused on STEM. Today, Coursera has expanded and offers 2,700+ courses in any field you are looking for.
It is essential to complete the assignments taught in the form of quizzes, and you can acquire the certificate. However, if you are looking to explore something new and be interview-ready, you can also audit the courses for free view the material even without participating.
Significant Features:
University rated content
Offers certifications
Presents mobile learning platform
Tracks learners progress
Promotes hands-on learning
edX
Committed to academics, it goes back to its roots in Harvard and MIT. The XSeries programs offer 100+ professional mortgage-backed securities, front-end development, and corporate finance. It practices what it preaches, offers quality educational content, and requires you to invest time. However, if you are looking for a certification, it might even cost you.
Significant Features:
User-friendly dashboard for learners and admin
Courses available for 30+ subjects
Customizable learning paths
Supports peer and community learning
Udemy business
Udemy's B2B offering offers an extravaganza platter of 14,000+ courses by enabling employee upskilling. From important courses such as tech skills, leadership, management skills, wellness skills, and more, the course is here to impart future learning.
Significant Features:
Available in 14 languages
Custom learning experiences
It helps you partner and implements strategies for the future
Enables simplified integrations
Assesses how participants learn
Course-level and user-level analytics and insights
Dedicated support
LinkedIn learning
The course trains managers efficiently by offering online courses across distinctive business, creative and technical categories. It aims to identify and scrutinize the gaps in skill while prioritizing upskilling sessions.
Significant Features:
Identifies skill gaps and promotes learning activity
Offers personalized learning recommendations
It helps learners to look for the right content and share it across a team
Provides skills and skill assessments
Offers certification
HubSpot Academy
Known for offering a free online training session for customer service, marketing, and sales, the academy is touted as a practical course to train employees on sought-after business skills. This software development services for employee training furthermore offers eBooks for an improved learning experience.
Significant Features:
Free educational content
Easy to read lessons with video segments
Helps learners understand the material prior to the final exam
Promotes learning through real-world examples
FutureLearn for Business:
FutureLearn is associated with L&D teams and aims to create a unique learning solution per one's budget. It also presents custom courses for all.
Significant Features:
Offers different learning modes
Presents learning through quizzes
Community help is available
SkillShare for teams
In the B2B segment of SkillShare, the platform invites teams to creative courses taught by in-class creators in the field. It furthermore teaches the recent trends while helping them stay updated with one.
Significant Features:
Hands-on content
Best skilled teachers in team
Organizes digital workshops, speeches, and private session
Promotes peer and learner feedback
Alison business
The courses (IT, Sales, Marketing, Management) are typically based on Columbia, Yale, Cambridge courses to reputed corporations such as Google and Microsoft. The content is free to download with affordable certificate courses.
Significant Features:
Videos and additional learning resources
Flexible in selecting courses
Program management tools for engagement
Quizzes are available
Virtual training
Pluralsight skills
It is one of the best software development services for staff courses and is a saviour for start-ups looking to revamp the software production timeline while expanding the professional delivery team.
Significant Features:
Gigantic library
In-course practice
Skill assessments
Offers analytics module
Interactive video training
Interactive courses
Udacity
Known as the ideal platform for cutting-edge courses, it is primarily distinguished for its advanced topics, including artificial intelligence, machine learning, and more. In addition, it presents a Nanodegree program, enabling learners to learn under the guidance of skilled industry partners.
It furthermore presents authoritative materials, wherein organizations collaborate to present certified courses. For example, the Google Analytics Nanodegree program is offered in close collaboration with Google while being taught by certified partners of the firm.
Significant Features:
Offers catalogues of different industries
Offers real-world projects with personalized feedback
Video courses
Quizzes and interactive exercises
Key Takeaways
Not all courses are appropriate for your role and the organization you are working in. However, the ten courses mentioned above offer distinguished program modules to assist individuals in the field they are looking to excel in.
These courses are aimed at helping both employees and organizations benefit in ways unimaginable. It is thus time to evaluate the software development services for staff training courses and take your time to choose the one that fits your organization's requirements and budget.
FAQs
Frequently asked questions
How can I better train my remote employees through an online mode?
Best tips and recommendations for efficient remote staff training includes:
a) Make a digital and operational training schedule for the staff.
b) Craft a pre-class checklist for remote employees.
c) Create an online calendar and set training follow-ups.
d) Make sure access is effortless and don't disturb their work.
e) Always initiate with a prior orientation from the HR team.
f) Remain online and provide frequent check-ins.
g) Make employees interact and engage while learning.

How can organizations enable constant learning and employee growth?
The best advice for facilitating company growth and maturity includes:
a) Build a learning ambience.
b) Teach work and life balance through learning.
c) Allow employees to have an online professional library.
d) Provide training reimbursements to staff members.
e) Support with flexible schedules so staff can attend learning classes.
How do you build an online training course software?
Below are the steps for building a training software solution:
a) Decide on the precise subject matter for the online course software.
b) Test your idea and concept through a prototype
c) Define the target audiences.
d) Research similar software solutions extensively.
e) Hire a software development company
f) Prepare a course outline and craft the content.
g) Develop the software and map the content.