NFT
Significant Aspects to Comprehend When Developing NFT Marketplace
Wed, 06.04.2022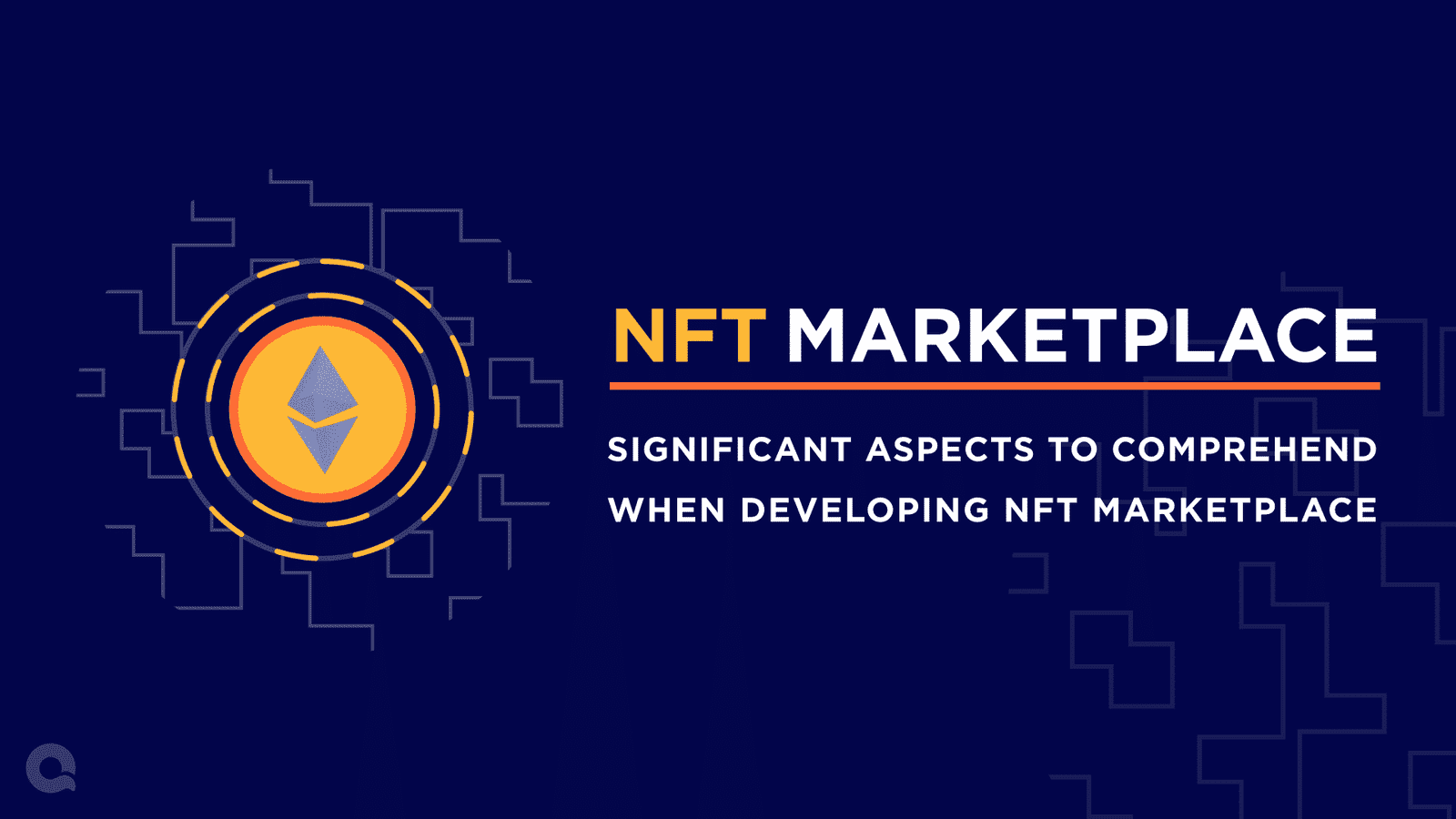 The acceptance of online marketplaces for digital collectables is increasing every day. If you even want to pass in the market, you must build a marketplace on your own. We are attentive to Blockchain technologies and diverse cryptocurrencies, and many individuals utilize marketplaces to buy or sell products.
NFT (non-fungible token) is such a marketplace that acts as a public Blockchain platform. Even though this platform is still not entirely mature, its growing admiration is why developers and business professionals build such a marketplace these days.
If you are exploring how to build an NFT marketplace application such as OpenSea, explore this article. We have enclosed the whole thing you should know while developing such a marketplace.
What exactly is an NFT Marketplace?
It is a platform that facilitates you to reserve and use NFT or Non-Fungible Tokens for trading. You can typically purchase or auction these tokens at a fixed amount. You must have a crypto wallet to enable transactions and store your tokens to further leverage such a marketplace. OpenSea is a marketplace where you can purchase or put NFT artworks for sale.
An NFT marketplace lets users create an account, upload artwork digitally and make transactions. Commonly, niche marketplaces are more advanced in demand than benchmarked ones, as they provide all that their customers may require, sell artworks, and comprehend a precise target audience.
In What Way NFT Marketplace Works?
You should first register and link the crypto wallet to your account to leverage a marketplace. Subsequently, you require to follow the below stages:
Craft an NFT and state all ideal parameters.
List digital products for sale and pause for the accomplishment of the control.
Purchasers place their bids when auctions are executed.
When auctions are comprehensively done, the marketplace transfers digital products and cryptocurrency.
An NFT marketplace uses specific transaction protocols called smart contracts. These protocols control the links between the seller and the purchaser. Furthermore, these smart contracts encompass identifying data sets related to a precise NFT. Henceforth, the procedure of purchasing and sales of tokens becomes expedient.
How to Develop an NFT Marketplace?
If you want to build an NFT marketplace for your company business, please follow these below steps:
Select Niche
Selecting a precise niche assists you to initiate your NFT marketplace building project. If you have an all-purpose concept, converse it with developers to make the tactics and estimate the time required for the marketplace development. As per specialists, you should target a vertical market rather than a horizontal one.
Enable UI/UX Design
The UI/UX design is vital when developing any of the marketplaces. Your user interface must be upfront. Effective UI/UX improves the functionality and features of the developed platform.
Go for Front-End Development
If you have a design concept, it is the right time to implement it. Select a trustworthy framework to meet your goals. Hire a specialist developer to enable superior features and standing.
Leverage Smart Contracts Token Generator
When developing an NFT marketplace, back-end development doesn't look similar. Subsequently, as the NFT marketplace is a distributed platform, the majority of the data sets get verification on a Blockchain.
Testing and Deployment
It is the most decisive stage of developing an NFT marketplace application. During this phase, you are required to spot and resolve each backlog. Software tests make sure that the project is running precisely. Post-launch backing is also needed to diminish bugs and guarantee higher quality performance.
Best Features to Embrace in an NFT Marketplace Application
Here are some of the significant features and functionalities that you can add to an NFT marketplace application:
Storefront
A flourishing NFT marketplace typically has a storefront that works similar to an explicit dashboard. It offers the user base with all data sets required for an asset, which includes:
Owners
Value-based History
Bids
Previews
Progressive Token Search
Customers should get wide-ranging data on products they require instantly, without any added effort. Your NFT marketplace application should comprise each product organised with some of the features. With quick search, you can increase customer contentment.
Filters
Leveraging filters is highly advantageous. Besides, it becomes simpler to undergo a web portal. Add this functionality if you want to build an NFT marketplace platform for breakables. It lets the user base pick assets category-wise, payment mode, owed time and listing standing.
Bid and Purchase
A marketplace enables customers to purchase and offer NFTs recorded on the precise platform. Their offers should comprise a bid validity date and facilitate them to view details on those offers' existing standing.
Craft Listings
Enable your customers to craft and send digital collectables. Ensure they require minimal effort to do it. Build a specific page where they can submit required files and enter details in the product description. Details such as title, description and tags are essential.
Wallet
Your NFT marketplace should comprehend a wallet that enables consumers to easily store, send and get NFTs and cryptocurrencies. You can build your own wallet or blend current wallets into your explicit platform.
The Listing Status
The listing status is useful for individuals who offer products and pass the authentication procedure. It allows checking the status and position of the validation procedure. It assists in implementing collectable substantiation.
Ratings
It is a functionality for starters who don't know where to initiate, choose products swiftly, and how the system works. Checking of rating assists the user base to comprehend whether the specific seller is reliable. On an NFT marketplace, individuals who participate can rate and offer feedback relying on their involvement. It enables other individuals to check out the overall credibility of a user base.
Factors to Comprehend When Developing an NFT Marketplace
Below are the essential factors you should comprehend while developing an NFT marketplace applications such as OpenSea:
Complete Transparency
Your developed NFT marketplace must have complete transparency to offer the user base a vibrant sight of all involved transactions. The Blockchain network ensures error-free payment processes and offers a unified transaction experience.
Security Level
It is a powerful functionality in an NFT marketplace which relates to the transaction of tokens amongst trading participants. The built-in security protects traders from transaction-based losses and other needless functionalities.
Enablement of Decentralisation
It enables you to copy and distribute all details to diverse Blockchain networks. When there is a new block's introduction, the network apprises its Blockchain for making variations.
Monetization Model
It would assist if you considered this component while developing an NFT marketplace. For example, OpenSea does not ask for a fee for listing. Nevertheless, while sales, the platform withholds 2.5 percent from the total product cost.
Smart Contracts
No commission fee is required for resetting smart contracts. You can straightforwardly execute this by signing the contract online to avert illegitimacy and trim down mediators.
How Much Does It Cost to Develop an NFT Marketplace?
The project costing and time rely on the performance of the active marketplace. If you want to build a multifaceted platform, you must capitalize with more funds while crafting the NFT marketplace.
If you utilize a ready software solution, there is no declaration of security, and the product's reliance will be on the platform from which you get the key. Though, the cost will be less in this particular scenario.
So, you must hire a software development team to build a customized application for your business. The experts will make a user base flow, craft the features and functionality, and develop the marketplace from the commencement. Henceforth, the total costs may boost more.
Key Takeaways
Since NFTs acceptance is rising with time, this is an excellent time to develop an NFT marketplace application. These marketplaces comprehend many exceptional features and functionalities. Turn to a proficient development team to do your NFT project right from the beginning.
FAQs
Frequently asked questions
Which are the prevalent NFT Marketplaces?
There are many NFT marketplaces where you can purchase and sell digital products as well as virtual collectables. Some of the prevalent NFT marketplaces are OpenSea, Rarible, Foundation, SuperRare, and Nifty Gateway.
How does an NFT marketplace make funds?
NFT marketplace can create funds in two approaches. They make revenue by fees and involve commissions to sell or purchase an NFT. The seller's fee is subtracted from the full price, while a purchaser's fee is added to the whole costing.
How long does it take to build an NFT marketplace?
The time to build an NFT marketplace relies on multiple influences, such as complexity levels, functionalities, involved features, platforms, and technology stack. Keeping in mind these aspects and impacts, it can take around 4 to 6 months to develop an NFT marketplace.