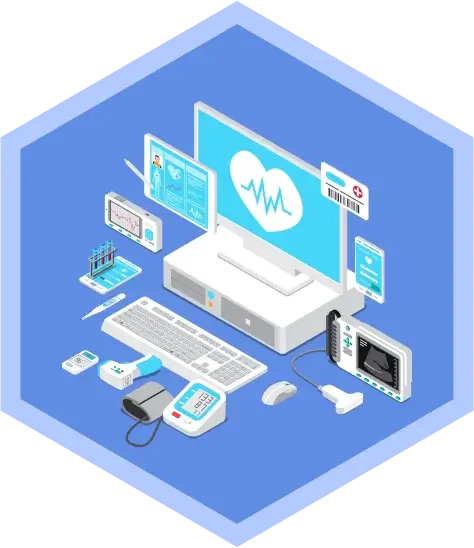 Who we are
Our company provides innovative digital healthcare solutions
Healthcare & Clinical Digital Solutions.
QalbIT Infotech provides specialised healthcare applications that are adapted to each client's unique business requirements, enabling hospital managers to more effectively manage vital resources and patient health data.
In recent years, there have been substantial changes in the healthcare sector. QalbIT Infotech is committed to provide complete and distinctive healthcare solutions that support organisations in moving ahead in fresh and inventive ways. QalbIT Infotech is a well known digital IT consultancy. By providing patient-centered applications with amazing features that make their life easier and act as their personal health coaches, you can raise patient engagement.
Healthcare consultants
Nurses
Dentists
Physicians
Surgeons
Hospitals
Healthcare solutions we offer.
When it comes to building applications for the health industry, we are one of the most trusted Web development agencies. Our expertise ranges from creating top-notch UI/UX designs to building robust back-end systems, enabling us to deliver the perfect healthcare mobility solution for your business.
With the support of a leading online digital catalyst, your business can harness the revolutionary healthcare technology and enhance patient experience while streamlining asset management and health data records. Let us assist you in achieving your healthcare Web development objectives with our exceptional services.
Health Monitoring Web Apps
Wellness Web Apps
Medical Web Apps
Patient Management Web Software
Remote Healthcare Web Solutions
Hospital Management Web Systems
Clinical Decision Support Systems (CDSS) Web Applications
Healthcare Analytics Web Applications
Estimate Project
Estimate your project for free in
24h
Let's Talk about your needs.
Let's Talk about your needs.
Fill contact form or send us an email and tell us about your project idea and concept.
We can discuss your idea, concepts and needs to decide on the platform and features.
Receive time & cost estimation
03
We prepare an estimation with a split for each feature and platform. FAQs on Web Development Technologies
What are the advantages of outsourcing web development?
The significant benefits of outsourcing your web development project are:
Lower development and implementation costs
Flexibility to work in diverse time-zones
Access to skilled developers
Compact development times
Guaranteed quality services
Use of advanced technology
Enhanced understanding of diverse platforms
How long does it take to develop a quality website or web application?
Computation of how long it takes to build a quality website or web app will rely on many factors such as the development platform, the intricacy of the design, skill levels of involved programmers, must-have features, QA, testing, and many more. Connect with us regarding your project requirements to know the projected time.
How much does a web application development cost?
The cost of web app development relies on several factors like the development platform, project groupings, project complication, experience of developers, and needed project functionalities in your web application or website portal. Connect with us regarding your project requirements to get the development cost.
How to select the best web application development company?
You should check the following information and related insights on:
Work Portfolio
Client References
Developed application types
Experience in the industry
Technology Support
What are the diverse web development services?
There are three categories of web development services: front-end development for developing the precise user interface, backend development for the code to operate all web operations, and full stack development, which can deal with all facets of web development solutions.
Get in touch with us for web development
How can we help you?