Software Developer
Key Reasons to Hire Dedicated and Professional Software Developers
Wed, 09.03.2022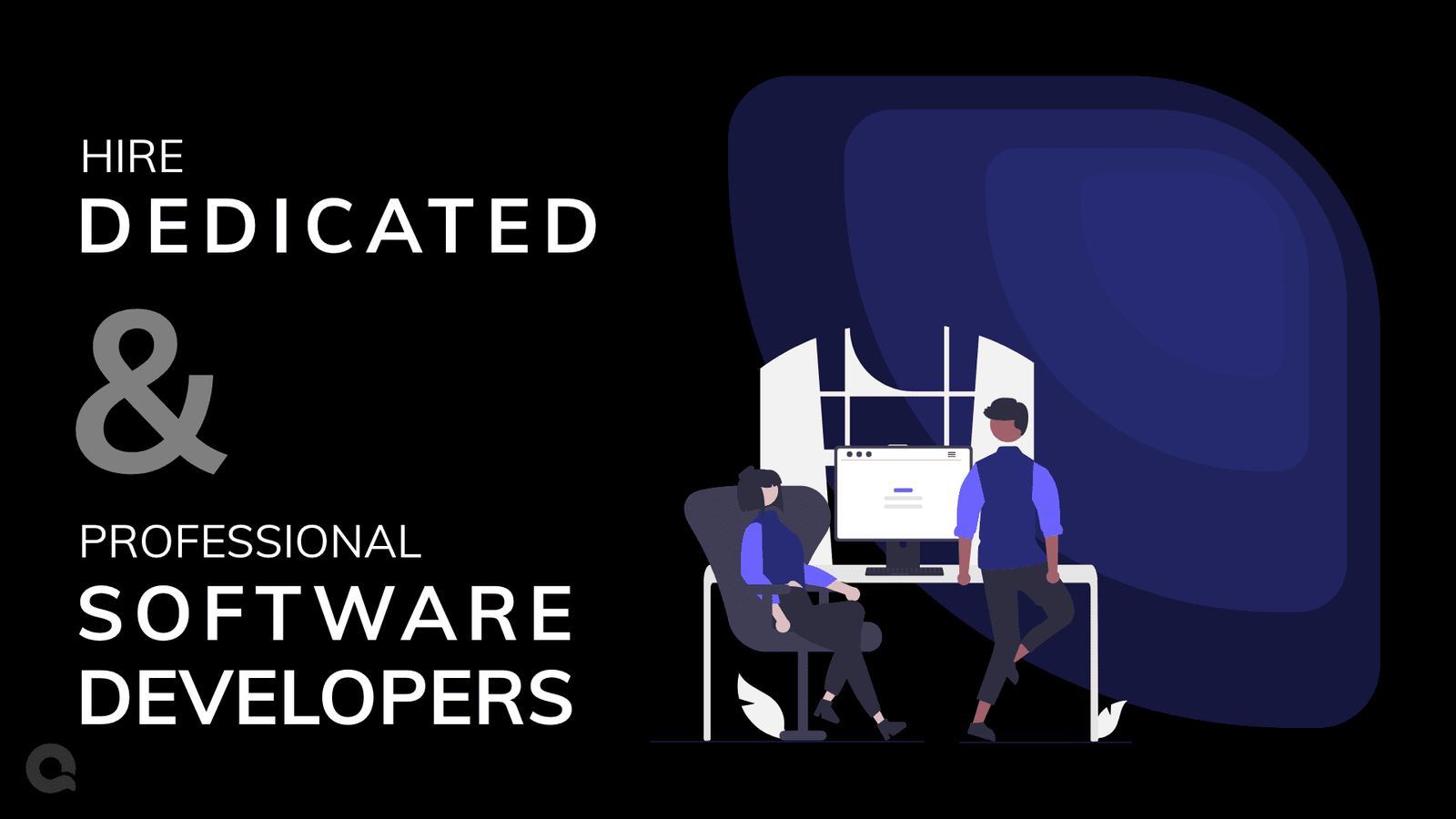 Modern-day software development services are the requisite for your company's growth as fast digitalization offers better business opportunities. Hiring the right dedicated team can make a massive difference to your current and future operations.
Hiring a professional development team also plays a crucial role in today's technology disruption and has become an inseparable part of life, leading to advancements for businesses.
However, success comes to companies that can develop a robust and scalable software solution. This scenario calls for time, skills and money. Also, software development differs according to the business goals and industry, and hence, a company needs to be clear of what it needs to achieve. This ensures the maturity of effective industry strategies and market growth.
When a business decides to opt for software development, there are two ways to achieve it: Building an in-house team or hiring a dedicated software development team. The choice depends on various aspects but in general, outsourcing the development task is believed to be a better choice.
What Precisely is a Dedicated Software Development Team?
A dedicated team is a group of technology developers specializing in developing effective software irrespective of the industry. The team consists of professionals taking care of different functions like testing, UI UX designing, back-end developing process, front-end development, business analysis, etc. Thus, it provides a complete software solution to the client with the least effort.
The professionals work full time and have experience with different client categories. The report and interact with the client directly, which means that you can monitor and progress the overall project. The software dedicated teams are highly adaptable and can make quick modifications.
Key Reasons to Hire Developers or a Dedicated Software Development Team.
Every development project is different in scope, length, and requirements, and hence, various equipment, expertise, and tools are required in the process. A dedicated team works full-time for businesses from diverse industries and has a great understanding of market trends and needs. Below are some reasons to consider hiring a team:
Diverse skill sets: When you hire a team, you are assured of the best skill set in one place. Software development is a complex process and involves various aspects like programming, implementation, designing, user experience, etc. Hence, it becomes crucial to have the best professionals who know what would keep your business ahead. A software developing company has a high calibre and professional teams, which minimizes the scope of errors.
Key accountabilities: Hiring a dedicated project development team makes them accountable for the outcome. This would mean data security, timely completion, and liability for efficient software. This would mean high quality, stable and effective outcomes. The software developing companies ensure they attain customer satisfaction, which would impact their future clients and upcoming projects.
Assertive communication: When you hire a dedicated team for a software development task, you expect clear communication at each level to avoid disappointment at the end. Reliable companies offering development services have solid and multiple communication channels to prevent misunderstandings and loopholes. This can be 24×7 customer support, emails, online and in-person meetings, etc. The professionals working on the project communicate to understand the project goals and requirements from the very beginning. Also, a dedicated reporting manager is assigned to facilitate discussions at each progressing level.
Post-development support: Software development is a continuous endeavour. According to changing trends, the software needs to be upgraded and changed regularly. When you hire software developers or development teams, you get into a contract with the developing company, which clearly states its services during and after the development process. Post-development support plays a vital role in the long run. However, only good companies offer such services. They quickly identify the issues and fix them instantly without hampering the business. The task can be updating or adding innovative features or ensuring smooth software operation at all times.
Latest development tools: A company specializing in software development invests money in maintaining the hardware and has upgraded software to facilitate exceptional development processes for their clients. The investment is considerable since numerous software is available, and each has a unique feature. Every software associated with the development process is licensed. If a business decides to develop software via an in-house team, it would call for professionals and demand programming software and appropriate hardware. This means that the company will have to spend a considerable amount of money setting up. Hence, businesses with a limited budget should opt for outsourcing to reduce the setup cost.
Team according to need: Software development occurs in phases which indicates that the team needs different expertise at different times. Outsourcing the development task allows you to be content that the developing company will use expertise according to the development needs. This means the teams are flexible, and outputs are successful.
Time and effort savings: Undoubtedly, outsourcing development tasks saves a lot of time. This is because you do not need to build a team and train them. Also, you need to convey your requirements, and the team starts working instantly on the project. Time is crucial in the digital era, and the first movers have an advantage. Thus, it becomes essential to have effective software with the best features and earlier than the competitors to stay ahead in the competition.
Better productivity: When you hire a team for software development, you can dedicate the saved time to other essential business tasks. This ultimately leads to better productivity of your resources as many jobs go on simultaneously.
Reduced risks: Business is about maximizing opportunities and minimizing risks. You reduce future risks when you outsource a software development task to a reliable company. There have been instances where a company invested money, efforts, and time in developing software, but in the end, the software turned out to be a failed attempt or could not make the desired impact. This led to wastage of resources which hampered business badly. With experienced professionals working on development, the failure risks are reduced drastically, which means that the company business will grow.
Choosing the Right and Best Technology Services Provider Company
With the above benefits of outsourcing software development, it is evident that hiring a company that specializes in this segment is highly recommended. However, choosing the right company is also an important decision. It needs to be taken after proper research and background check.
Several companies are operating in the software development segment, but not all are equally good. Thus, making the right choice would decide the future of your business. Once you choose to hire a technology company, make sure you check its previous work and feedback from other clients.
Reliable companies prioritize client satisfaction and render the best customer support. They understand that the digital world is dynamic and have teams of professionals who have in-depth experience and can work efficiently on all projects. Thus, you should always check consistency, work standards, and policies before getting into a contract with a particular company.
Moving Forward with the Best Product and Web Development Company
Today, when digital platforms allow companies to reach people worldwide, it is an opportunity to increase clients. A well-developed software that backs a business ensures business growth and maturity.
If you plan to expand your business, you should consider software development and outsource it to a company that knows the right design and development approach. A good partnership will lead to great results in the long run, and hence, choosing the right technology partners will make the tables turn.
However, for achieving business success, you should be clear about your technology project needs and convey them to the hired dedicated team. If taken seriously and approached in a precise way, modern-day software development can transform your business.
At QalbIT, we are the top product development and one of the best web development companies. So, let us get in touch to discuss your future technology projects with our web development services and make your business successful in a quick time.
FAQs
Frequently asked questions
When should you hire a dedicated development team for your web projects?
Dedicated development teams are the most operative in the following scenarios: Long-term web development project requiring volatile changes. When your in-house team is already working on other projects, you can better outsource a dedicated development team and sustain focus on all the in-hand projects.
What are the benefits of hiring or outsourcing a dedicated development team?
The benefit of hiring or outsourcing a dedicated development team is its cost-efficiency levels. It is better to hire a team that will save you funds, efforts, time and deliver a superior digital product.
How do I hire or successfully outsource work to dedicated web developers?
The approach of hiring dedicated developers comprises:
Run an inclusive search online or ask in your network.
Shortlist web development companies such as QalbIT.
Look for timely deliveries, security and suppleness in your developers.
Check the project skill sets your hired developers should possess.
Decide on the pricing, initiate development work and look for project enhancements.